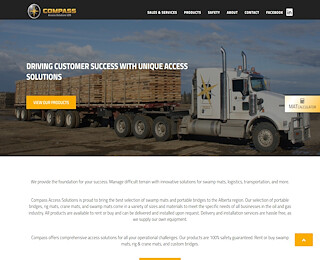 Compass Access Solutions LTD is the number one provider of portable bridges in Alberta. Our engineers are among the brightest in the nation, and nobody provides the level of quality and service that we provide. Compass manufactures portable bridges that can get your crew, your fleet, and your equipment to the job site and back safely.
Overcome any Terrain

No matter what design you need, and no matter how difficult the terrain may be, Compass Access Solutions LTD can build a bridge for you. We build bridges that can traverse:
Muskeg
Unstable land
Rivers
Creeks
Uneven land
and other types of bridgeable land
Our Bridges are Affordable for Lease and for Purchase
Of all of our competitors, you will find that Compass Access Solutions LTD is among the most affordable choices for temporary bridges. We create durable timber bridges for every situation and application. You may purchase or rent our bridges, and we'll even install it and remove it for you when you are finished. You'll be able to safely transport up to 100 tons of equipment at a time. Just let us know your access needs, and we'll come up with a custom solution.
Bridge Specifications
Our portable bridges are the perfect solution for getting your materials across both small spaces and large spaces. We create bridges as short as 20ft in length all the way up to 140ft in length. All of our bridge designs come with optional fixed or removable deck structures, steel girders, 14ft wide running decks, and our bridges are 80ft winchable. All of our bridges are pre-stressed and professionally engineered by the best in the industry.
We Create Only Environment-Friendly Products
At Compass Access Solutions LTD, all of rig mats and bridges are environmentally sound. During the installation, use, and removal processes, our team ensures that water siltation and erosion are minimized. We are environmentally conscious, and you can depend on our products to and services to keep you in compliance with environmental regulations
Endless Bridge Applications

The applications of our temporary bridges are seemingly endless.
Access to construction sites
Oilfield bridges
Logging
Flood relief
Crossings into natural habitats for studies
Housing development
and more
Further, all of our bridges are portable, reusable, and maintenance free. You will be pleasantly surprised to know that our bridges are cheap to install and remove. You may also use our bridges to overlay an existing bridge with greater weight restrictions.
Trust Compass for Your Temporary Bridges
No matter the need, portable bridges from Compass Access Solutions LTD can get you where you want to be. Give us a call or connect with us online to discuss your project needs. In the meantime, feel free to check out our references and reviews online. We've been in business for a long time, and all of our past clients have raved about services and products. When you hire us, we go above and beyond to give you the best of the best. Contact us today.
Portable Bridge
Compass Access Solutions Ltd.
(780) 513-5517
40016 Hwy 43
Grande Prairie County No. 1
AB
T8X 4C6
View Larger Map